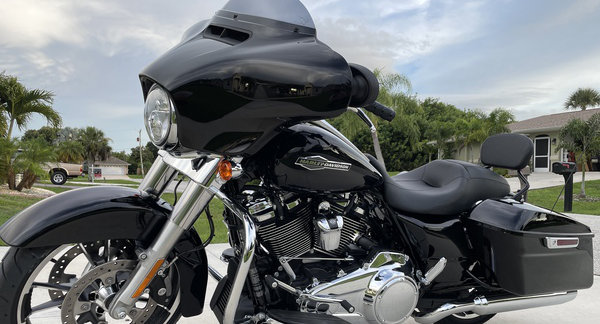 The Harley FLHX Street Glide is a stylish bike with an old-school appeal.  Harley-Davidson has outdone itself when it comes to the FLHX.  In addition to the great look, it has a powerful engine and riding comfort that will keep you riding for days.
Harley FLHX Street Glide Is In High Demand
The FLHX Street Glide is one of the premier "bagger" bikes you can own. A bagger is when a motorcycle usually a cruiser, has a full set of saddlebags. Of course, the FLHX comes with a roomy set of saddlebags. As one of Harley-Davidsons best selling models, the Street Glide is always in high demand.
The engine in this model is a Milwaukee-Eight. A V-Twin air-cooled engine with plenty of power. The ride of the bike is plush and comfortable. Also, when it comes to building quality, this model is some of the best in the industry. Sturdy and reliable with a good look better than most.  When it comes to a long ride, the FLHX Street Glide handles the job well.
Selling Your Harley-Davidson Street Glide
There may come a time when you are ready to upgrade your Harley to a newer model. Instead of taking your old bike to a dealer where they will lowball you on trade-in price, sell to Sell Motorcycles For Cash.  We keep the whole process simple and hassle-free. To start, fill out our quote form right here.  Once we receive your submission, we will contact you with a fair price for your bike.
Once that is agreed on, we will issue a check and arrange the pickup of the motorcycle. It is just that simple. When it comes to selling your FLHX Street Glide, choose the best option, Sell Motorcycles For Cash! Finally, start your process today to get the cash you need to buy your new motorcycle by selling your old one.